REVOLTING COCKS-YGDSOAB /Original Wax Trax! Promo Poster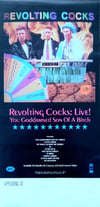 For a limited time, we are offering rare Wax Trax! items from the personal Nash Family collection and archives.
This poster is from the Amazing 1987 live Album performed at Chicago's Metro, and used to promote the LP, CD, Cassette and Video...Measures approximately 13.5" x 27.5"
Condition=Mint!
Note: Posters will be shipped separately in multi-item orders. Insurance is included in the shipping cost for US destinations.